This post is also available in: Bulgarian
Some clothes are essential for the wardrobe of every woman who wants to have a classic and timeless style. Today's outfit is created from such elements only, and it's a true cliché without any imagination, but I really like it and you can see me dressed like that very often. Every piece of today's outfit is something I've had for years and when it gets old and damaged, I just replace them with the same.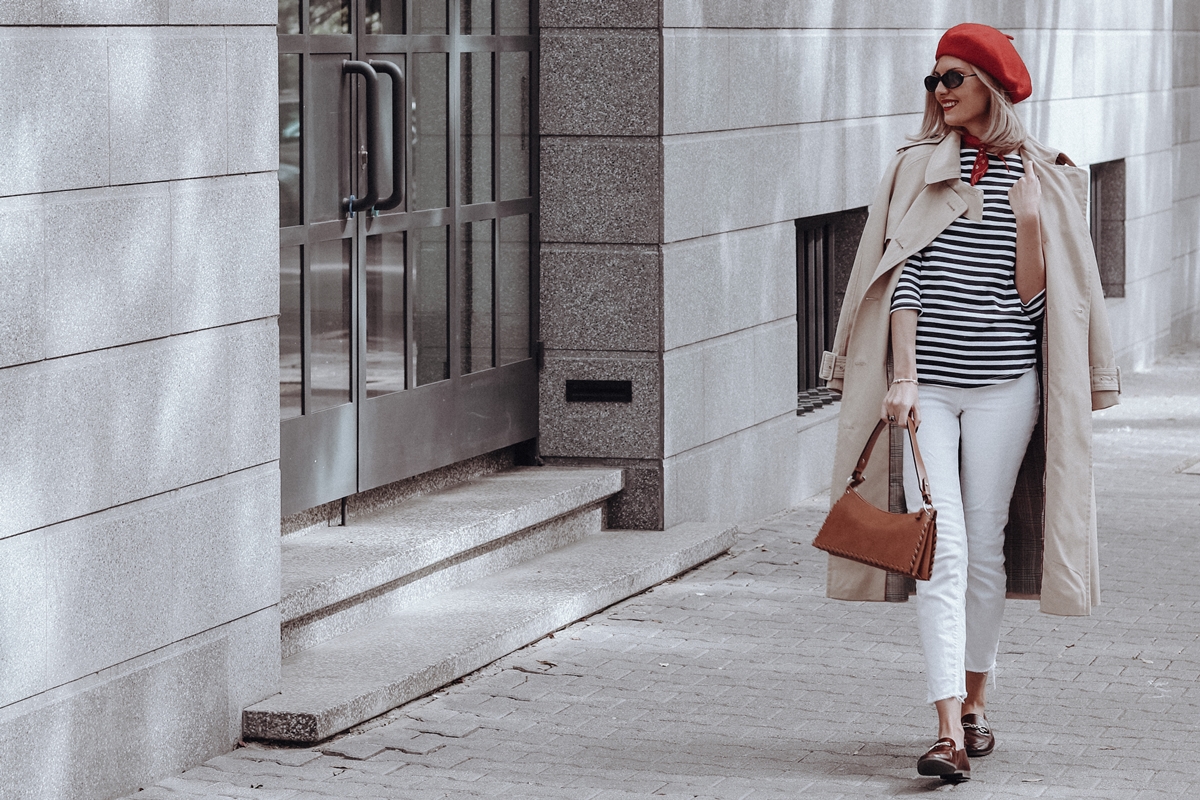 The striped t-shirts have a special place in my heart, right next to the white oversize shirts. I've been trying to build a capsule wardrobe for a while and "trying" is the keyword here. Unfortunately, I fail every time, and regarding the striped t-shirts – I have four of them. This basic piece of clothing was part of the uniform of the French Navy in the 1850s, and in the 1920s it became a timeless fashion trend, thanks to Coco Chanel. Later it became a notable element of the style of Audrey Hepburn, Brigitte Bardot, Kate Moss, and many others. The combination options are countless – with beige trousers, tulle skirts, linen Bermuda shorts in the summer, or with blue or white jeans.
For me, white jeans are the most difficult garment to find and wear. I always have to be careful where I sit and how I walk in order to avoid any dirty surroundings. Choosing the right type of white jeans can also become a nightmare sometimes because they have the ability to expose all imperfections of the body. For me personally, the perfect style is high waisted, straight leg, and ankle length. I admit that it was extremely difficult for me to find the right pair, especially after I ruined my favorite pair of white jeans on the first wash. In every store and brand, I found only skinny designs, which are very unsuitable for me, as they show my too skinny legs and belly, which reveals my love of pizza and pasta. But once I found the right ones, I can't stop wearing them because they match almost everything in my wardrobe.
I discovered my love for the classic trench coat in 2008 when I bought a great Zara coat as a gift for my mom. She didn't like it, so I got it for myself and wore it until last year. Some of you may laugh at me for wearing the same coat for over 10 years, but I really liked it and cried a lot that I had to throw it away, as it was damaged. The classic trench coat, just like the striped h-shirt, has a military origin – during the First World War, it was worn by the British soldiers as an alternative to the thick and heavy coats. This is where the name "trench" comes from, as it was worn during the trench warfare. After the war, it gained popularity, and the film industry made it one of the symbols of the fatal woman. Although Burberry has become synonymous with the trench coat, different brands offer countless variations, as well as different budget models. And while I'm digging for a vintage Burberry finding in the second-hand stores, I'll be wearing this Zara trench coat.
Loafers are the most comfortable shoes in the world and I don't know how I lived without them. Loafers first gained popularity in the 1930s as part of men's clothing. I don't know who and when decided to put them in the women's wardrobe, but I will be forever grateful for that. Nowadays, perhaps the most iconic loafers are Gucci Jordaan, but they are unfortunately far beyond my budget. If you, just like me, are looking for budget models – you can find very cool loafers in Zara and H&M for less than BGN 100. Mine are from Zara, they are genuine leather and they cost me about $ 20 on a sale. Now I want to have the same but in black too.
To make the whole outfit even bigger cliché, I finally added a beret and a mini scarf. I have shared many times about my special relationship with berets and they have been part of many blog outfits – for example here, here, and here. Regarding the small scarf – it makes even the most basic outfit a bit more stylish. And although today's whole outfit is a true cliché without any imagination, it makes me feel chic, well-dressed, and confident.