This post is also available in: English
Last week I came home from my first summer vacation for this year, which I traditionally spend with my besties. I didn't plan on writing a post on that vacation, but I visited a place that I really wanted to share with you. I am talking about GORA – glamping located in Gradina Camping. I've slept in a tent many times, but glamping was a whole new experience for me. In this post, I will try to answer most of the questions that I was interested in before going there.
What is glamping?
Glamping is a relatively new trend in camping, and the name is a portmanteau of glamorous and camping. In other words, it's still camping, but more gorgeous. Glamping combines traditional tent with some of the hotel room facilities. Instead of sleeping in a sleeping bag, you will have a comfortable bed with white sheets, and in the morning you will wake up in nature.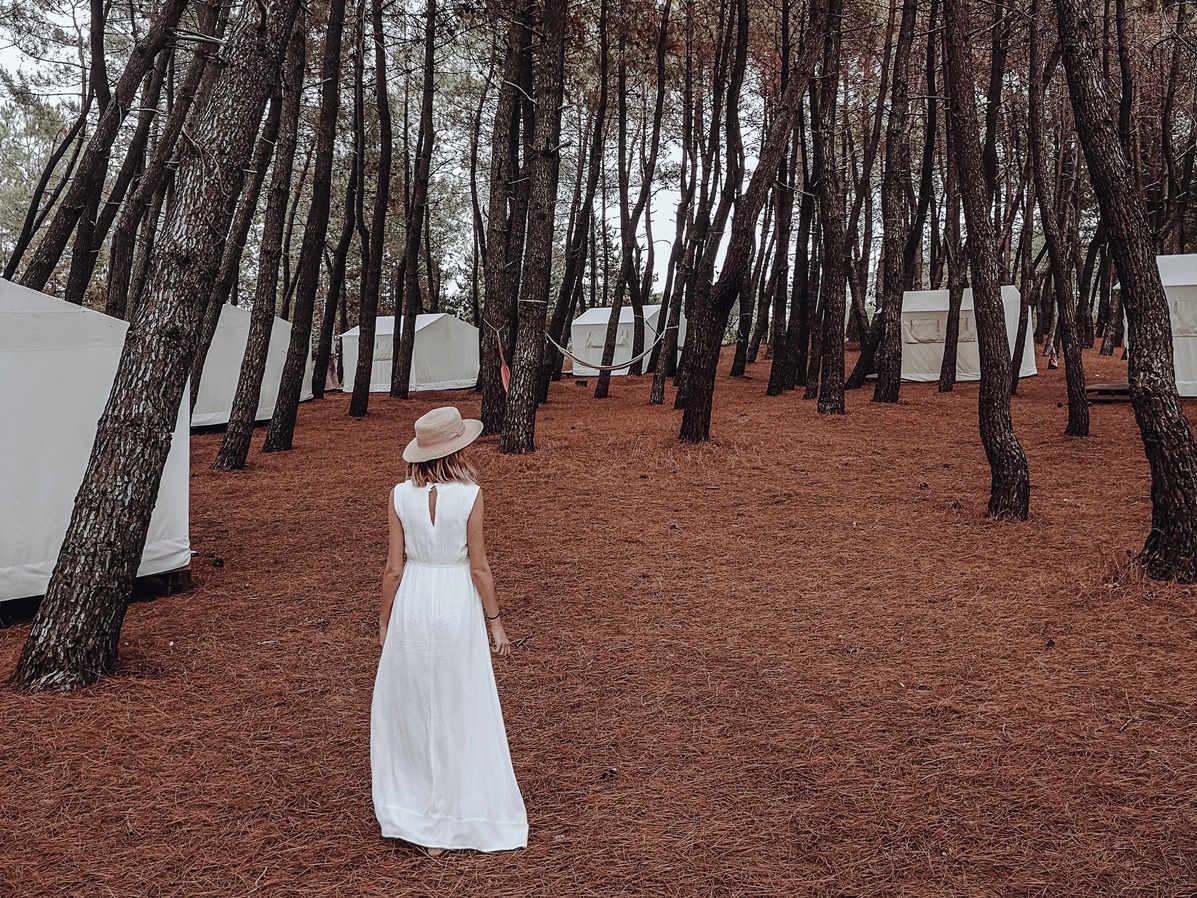 What kind of luggage should I take?
Forget about fancy outfits and high-heeled shoes. Glamping is closer to camping than hotel accommodation, so you have to choose something comfortable and cozy. A pair of jeans, shorts, few t-shirts, a sweater, and a swimsuit are all enough. Well, maybe some beautiful boho dress as well if you want to take some good photos. Grab a pair of comfy sneakers and flip flops and don't make my mistake forgetting the repellent. You will still spend the night in nature, and there are plenty of insects there.
Is there a bathroom?
A glamping's bathroom, just like a regular campsite, is communal. In GORA Glamp the sanitary facilities are located about 20 meters from the tents and bathing is done through a card with credits giving you 5 minutes of hot water. The purpose of the cards is for the baths to be used only by campers and not by everyone on the beach.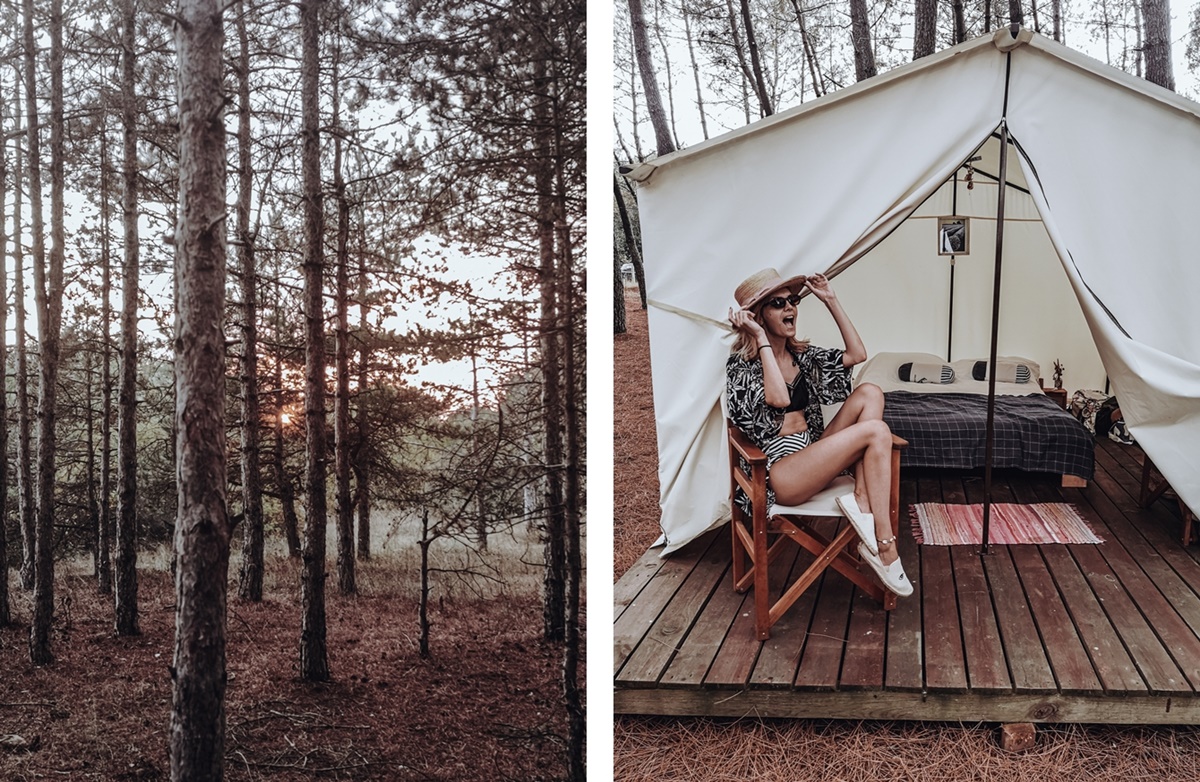 Isn't it noisy?
The fact is that a tent cannot be soundproofed and there are bars nearby, but there is still minimum noise. It could be said that we were the loudest people there because in the evening we had drinks at the tables in front of the tents. And yet, when I went to the tent to get some clothes, there wasn't noisy at all. Just in case you can get earplugs. I always get some when I travel somewhere.
Why glamping when there are hotels at a similar price?
When you go glamping, you don't pay for spending the night, but for the experience. At least this is how I see it. There is no better way to connect with nature than to spend a few days in it. Breathe in the fresh air and listen to the sound of the sea or the wind in the trees in the morning as you wake up. At the same time, you wake up rested because of sleeping in a comfortable bed.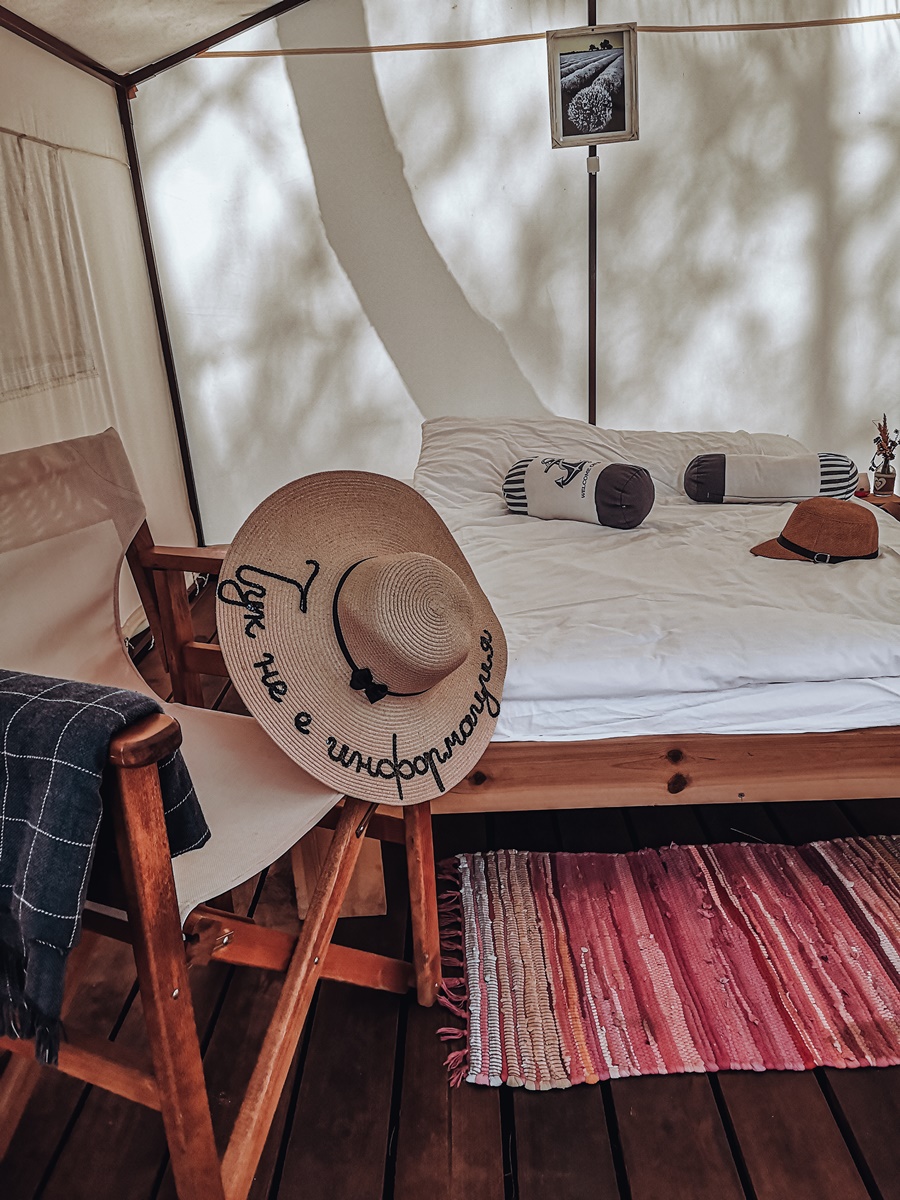 In conclusion, I can say glamping is not just a night in a fancy tent, but a way to recharge your batteries and be in nature without giving up the basic amenities. I will definitely visit GORA again next summer, but next time I will stay there for more days.
If you have visited or know other glamping sites, I would be glad if you share them in a comment.